What's new on ASAP Utilities
We'll keep you updated about new releases of ASAP Utilities. If you want to receive an email as soon as a new version is released, then subscribe to our newsletter. The news is also available as an rss-feed

---
Januari 26, 2004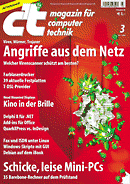 C't is one of the most read computer magazines in Germany. In their third edition this year they have made a selection of the best tools for Word & Co. ASAP Utilities was one of the three best add-ins for excel.
---
November 25, 2003

Digi.no has reviewed ASAP Utilities before, a bundle of smart extras for Excel. ASAP is still exanding and now has over 300 functions. The option to desect cells and a number of advanced select functions are only a few of the features.
Av Einar Ryvarden - Oslo - Her er en tilleggspakke til Microsoft Excel som gir 300 nye funksjoner.

Digi.no har tidligere omtalt ASAP Utilities, en samling med smarte tillegg til Excel. ASAP utvides stadig og er n? kommet opp i 300 nye funksjoner. Muligheten til ? velge bort enkeltceller n?r du har valgt store blokker med musen og en rekke avanserte s?kefunksjoner er noen av mulighetene.

Lenke til dagens nettjuv?l: ASAP Utilities

http://www.digi.no/php/art.php?id=96102&f=katnav
---
September 23, 2003
News from the Netherlands!

The response to ASAP Utilities latest version was overwhelmingly
positive. My thanks goes out to each and every one of you for your
support, help and tips.

Included with the new software are the release notes for version 3.06
which document the major changes in this new version. One of the new
features you will certainly like is the possibility to create a submenu with
your own favorite tools. You can also assign your own shortcuts.

Click here to go to the download page.

ASAP Utilities is (as always) free and contains no spyware !
We make you the company's excel guru!

What's new:
---
Januari 12, 2003
The reason this version is released so soon after version 3.04, is some problems regarding the compatibility with Excel 97.

New features:
---
Januari 9, 2003
New features:
Select
Move selection. Easily move your selection to left, right, up or down, using alt+l, alt+r, alt+u or alt+d

Range
Conditional select. Select cells with a certain length (i.g. 8 characters long)
Range
Pastespecial, with multiple options. I.e. paste both values and formatting.

Web
Optimize webimport. Easily clean a tabled copied from the intenet into Excel. I.e. remove hyperlinks, font colors, etc.
Information
Fast Calculation, smoothened and expanded. Count unique values added. Option added to copy the information to a new workbook.

System
Rename file. The renamed file is added to the recent- files list. Rename file. The utility asks for a new filename in the folder where the file is currently saved.
Options
Quickly see in where ASAP Utilities is intalled:

Bug fixes:
Text
Convert Dates, fixed buffer overflow, for example with a date like 20020508
Fill
Insert before and Insert after. Fixed the error when your selection contained formula's with errors. Now these cells will be skipped and the operation continues.
Numbers
Convert formulas to their values. In some cases a message appeared that workbook ??? could not be found. This is now solved.
Menu
Fixed the bug that appeared on some system (compile error in hidden module menu).
---
October 7, 2002

ASAP Utilities is featured as 'download of the week' on the German website WinTotal, a windows-portal.
Die ASAP-Utilities erweitern Excel 97/2000/2002 um über 300 Funktionen, die man sonst nur mühsam selbst oder über Marcos erstellen musste. Die Funktionssuite blendet sich übersichtlich und nach Funktion sortiert in die Menüleiste von Excel ein.

http://www.wintotal.de/
---
August 26, 2002
C't is one of the most read computer magazines in Germany. In their edition 18 they have reviewed several add-ins for Word and Excel. Besides the documentation, which is limited, the review was very positive!
---
July 9, 2002

In july 2002 Lockergnome, a big free technology e-mail newsletter, wrote a review about ASAP Utilities in their newsletter and on their website:

'My favorite Excel add-in has seen some nice improvements since the last mention. New functions include a very handy and flexible text-to-date converter, a randomizer function, undo capability for a few existing tools and an interesting conditional cell selection routine. Spreadsheet users will not want to be without this, trust me. If you're not an Excel powerhouse right now, ASAP Utilities can transform you into one overnight. I love this thing, and I don't even use spreadsheets all that often.'
http://channels.lockergnome.com/it/backissues/20020709.phtml
---
July 5, 2002

Av Einar Ryvarden - Oslo - Her er et omfattende gratis-tillegg til Microsoft Excel som gir deg 300 nye funksjoner og muligheter.

ASAP Utilities er et tillegg til Excel 97, 2000 og XP som gir deg en lang rekke nyttig funksjoner og muligheter. Et eksempel er ? kunne velge alle celler med bestemte verdier (fks. st?rre enn 12) eller som har r?de tekst eller bakgrunn.

http://www.digi.no/php/art.php?id=67292&f=katnav
---
July 3, 2002
New features:
Text - Date Converter
This will convert a text-string-date to another formatted date. I.e. 010101 becomes 1 january 2001, or 2001-12-02 becomes 12 feb 2001.
When it comes to importing data from i.e. financial systems, this feature is extremely usefull. Whether the original date is like "mmddyy" or "ddmmyy" this utility will recognize and convert it!
The conversion is very flexible.
Undo
I've built an undo option in a few functions. In time most functions will get an undo.

Select
Conditional select, added options to select cells that are NOT bold, underlined or italic.
Range
Randomize list, by row. Easily randomize the order your list is shown.
Sheets
Add sheet (inputbox will appear for the name) If you enter a name that exceeds 31 characters ASAP will automaticly reduce it to 31 characters.
Custom formulas
ASAPCountShades() ? Counts the number of cells that are colored within the given range.
ASAPSumByFontColor ? Sums the cells with a given color in a given range. The color is Excels colorindex (1-56).
ASAPFontColorIndex ? Returns the fonts colorindex number (1-56).


ASAPFullFilename() ? Returns the full path and filename of the active workbook
ASAPFileName() ? Returns the filename of the active workbook
ASAPFilePath() ? Returns the path of the active workbook

Bug fixes:
Import
Merge files together in a new file. The ability to import each file on a new sheet is now available.
HTML export
removed double ">>" when exporting without a font attribute.
Select
Conditional select. Fixed the bug when trying to select text that was "not like"
Range
Custom formula error message (hide errors) updated, will now work with in all languages.
Text
Make last character super- or subscript will no longer give you an error message if there is a numeric cell in the target selection.
Quicknumber
Fixed the error when the leading zero's was less then the number-length. (i.e. 2 leading zero's on 100).
Update info
Fixed the "error 13" on Excel 97 machines, when the update information appears.
I've also added an option not to hide the update-reminder for a period of 10 days.
« previous
1
2
3
4
5
6
7
8
9
10
11
12
next »
Share this page: