Where can I get a copy of my receipt?
Date: June 26, 2007 (last updated on December 10, 2015)
reference id: QA0148
Question
Where can I get a (copy of the) receipt of my purchase?
My credit card receipt isn't enough, I need a receipt that displays the tax information (VAT) etc..
Answer
A link to the receipt will be presented after you have confirmed the order in the section "Billing information":



When you place an order you wil get a receipt (see example) that you can print and which contains all the information you need. After you've placed your order you can download the receipt, but you can also login at MyCommerce/RegNow to get the receipt.
Get a receipt afterwards
If you've forgotten to print your receipt the first time you can get a copy of your invoice via our e-commerce partner MyCommerce/RegNow (part of MyCommerce/Digital River).
Just enter your email address and the order number and print the receipt:
https://admin.mycommerce.com/app/cs/lookup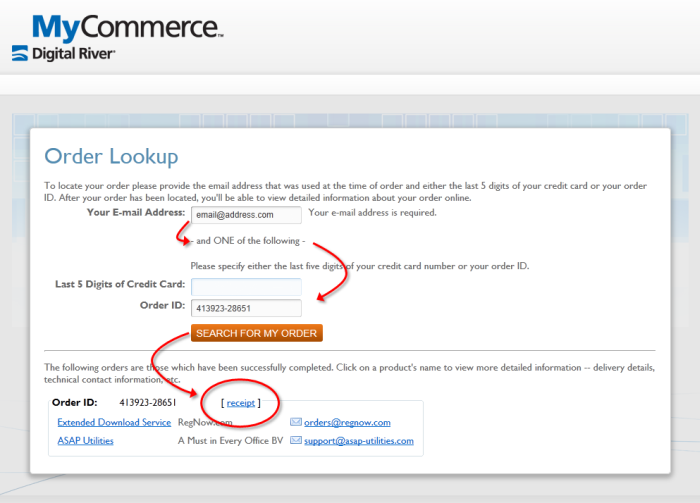 Reference on your creditcard bill
If you've chosen to pay via credit card then please remember the charge will appear on your bill from "DRI*ASAP UTILITIES" (from MyCommerce/Digital River).
Purchase process walk-through
We've made a demonstration of the purchase process.
« back
Follow ASAP Utilities on Facebook