What's new on ASAP Utilities
We'll keep you updated about new releases of ASAP Utilities. If you want to receive an email as soon as a new version is released, then subscribe to our newsletter. The news is also available as an rss-feed

---
March 31, 2006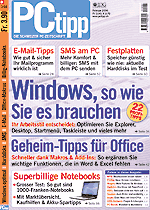 In the february 2006 edition of the Swiss magazine PC tipp and article described several add-ins for MS Office: "Office aufgemotzt".

We are proud (very proud!) to see a full page was dedicated to ASAP Utilities. Several of the most used utilities were described.

Their conclusion: "Kurz: Wenns in Excel etwas gibt, das Sie nervt, st?bern Sie doch mal in den ASAP-Men?s. Fast w?rden wir wetten, dass dort die L?sung f?r Ihr Problem drinsteckt.". Which is someway in English: "In short: When something is bothering in Excel for, take the time to look in the ASAP Utilities menu. We're almost certain the solution for your problem is there."

The full article is available on their website:
www.pctipp.ch
www.pctipp.ch/archiv/archivj.asp?yy=2006&ii=02

For those new to ASAP Utilities we higly recommend the User Guide, especially chapter 6 which lists comment problems and a description how ASAP Utilities can easily help you to solve these problems.
---
March 3, 2006
Today I have published a new version of the User Guide. This new version (0.5) has some additions and corrections. It also covers new utilities that are available in the new ASAP Utilities 3.11.
A new beta version of the 3.11 can be downloaded from my weblog:
www.asap-utilities.com/blog/
I recommend the new beta version to everybody who has at least Excel 2000.
---
Januari 24, 2006
We make you the company's excel guru!

ASAP Utilities is a free and easy to use Add-In for MS Excel 97, 2000, 2002, XP and 2003. The utility contains over 300 functions to make your work easier and faster done.

Version 3.10b is compatible with Excel 97 and all future Excel versions. It does not require any special (administrator) rights. If you have Excel 2000 or later and you do have administrator rights we recommend you to try the new version 3.11 also available from our website. That new version is faster and has some nice additions, but it also has a few more demands from your system and is at this moment still a beta-version.

My thanks goes out to each and every one of you for your suggestions and bug-reports the past year. ASAP Utilities continues to grow and improve thanks to your support, your suggestions and your encouragement.

ASAP Utilities is (as always) free and contains no spyware!

Kind regards,
Bastien Mensink
ASAP Utilities
---
December 20, 2005
ASAP Utilities has been reviewed by Productivity Portfolio a website about productivity and how to use certain tools.

ASAP Utilities Provides Excel Users Power and Flexibility
Excel is one of the pillars of Microsoft Office. Despite being feature-rich, there are some tasks that are either cumbersome to perform or are buried in the program. That shouldn't stop you from using Excel, as there are some third party tools that nicely complement the program. One example is the free add-in from Bastien Mensink called ASAP Utilities that provides easy access to over 300 utilities.
---
September 21, 2005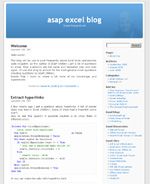 I've created a weblog/blog to post more frequently about Excel tools and provide code snipplets. As the author of ASAP Utilities I get a lot of questions by email (my appologies to those I don't mail back to, there are just too many emails and there is too little time).
Most questions are the same and repeated over and over again. I?ll use this blog to answer to the most general Excel questions including questions on ASAP Utilities. Beside that I want to share a bit more of my knowledge and experiences:
www.asap-utilities.com/blog/
Kind regards,
Bastien
---
August 8, 2005

ASAP Utilities is being featured in The Kim Komando Show Cool Site of the Day on August 8, 2005.
Kim Komando hosts the largest talk radio show about computers and the Internet. The program is heard on over 450 stations throughout the United States. Kim Komando's newsletter has hundreds of thousands of subscribers.
Tweak Excel
2005-08-08 | I've used Excel, Microsoft's spreadsheet program, for many years. But sometimes it's not the easiest program to get your arms around. I bet that many business people are probably in the same boat.
---
June 28, 2005
Version 3.10 fixes some annoying bugs (that were introduced or discovered in version 3.09) and contains new improvements.

My thanks goes out to each and every one of you for your support, help and tips. Unfortunately we're not able to reply to all the emails we receive, but we read them all.

Click here to go to the download page.

ASAP Utilities is (as always) free and contains no spyware !
We make you the company's excel guru!
What's new in 3.10:
---
June 8, 2005
PC Magazine has recently published it's 2005 Ultimate Utility Guide.
We're proud to let you know ASAP Utilities (3.08) has received the PC Magazine 5 Stars Rating, which is selected by a panel of PC Magazine editors, and leading industry experts.
Read the full article:
http://www.pcmag.com/article2/0,1759,1809682,00.asp
« previous
1
2
3
4
5
6
7
8
9
10
11
12
next »