ASAP Utilities system requirements
Date: December 20, 2006 (last updated on Januari 27, 2017)
reference id: QA0125
Supported Excel and Windows versions
The combinations of Windows and Excel in which you can use ASAP Utilities 7:
Is my Excel 32-bit or 64-bit?
| | |
| --- | --- |
| Excel 2000-2007 | Excel 2007 and earlier is only 32bit |
| Excel 2010 | File > Help > About Microsoft Excel |
| Excel 2013 | File > Account > About Excel |
| Excel 2016 | File > Account > About Excel |
Additional requirements
Basically, if you can run MS Windows Excel on your system then you meet the minimum requirements to run ASAP Utilities.

ASAP Utilities needs approximately 41 MB of disk space (18 MB for the program files and 23 for the PDF User Guide).
The recommended minimum screen resolution is 1024 x 768 pixels although ASAP Utilities will also work on smaller screens.
Click on the Excel version to view the system requirements from Microsoft for Excel 2000, Excel 2002/XP, Excel 2003, Excel 2007, Excel 2010 or Excel 2013/Office 365.
Just like most programs you must be logged in as an administrator or as a member of the Power Users group to run the setup or you can choose to run the setup as administrator. When the installation is finished every user on the computer is able to use ASAP Utilities. This process is described in the User Guide which gives additional information for system administrators.
It works in all international Excel versions
ASAP Utilities works with all Excel languages. The ASAP Utilities user interface and help is available in the languages English, German, Spanish, French, Italian, Dutch, Portuguese (Brazil) Russian, Chinese (Simplified) and Japanese). This means that you can use ASAP Utilities in the English version of Excel but also in international versions such as German, French, Italian, Dutch, Korean, Danish, Spanish, Polish, Russian, Chinese, Arabic, etc. etc.
Screenshots
Excel 2010 with ASAP Utilities in its menu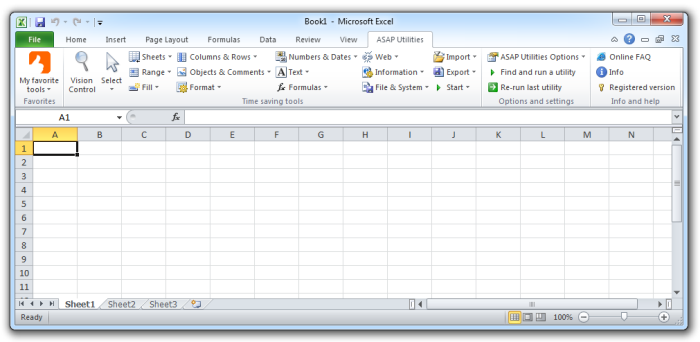 Excel 2000, 2002/XP or 2003 with ASAP Utilities in its menu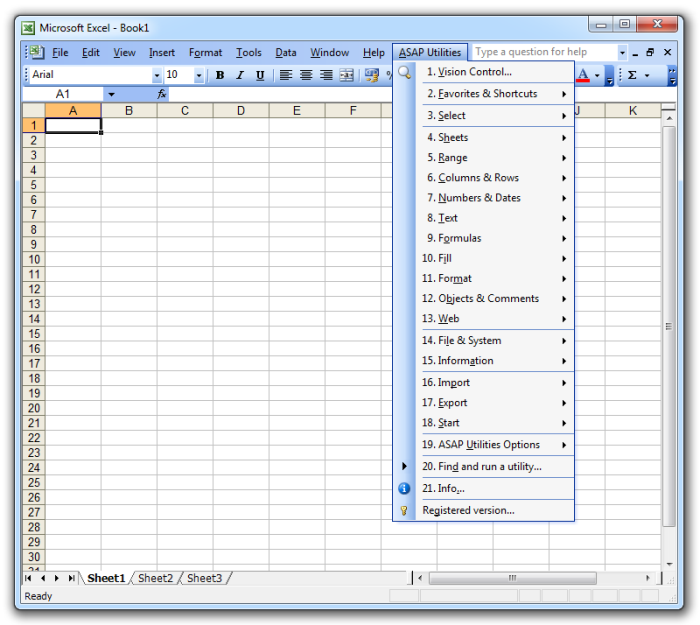 « back